About Samrick
Our Story
History
Then and Now
Services
Brands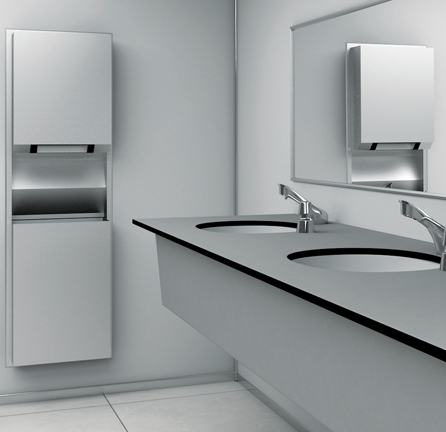 Samrick India Private Limited (Samrick) is home to the World's leading brands in Washroom Accessories for the non-residential segment. With PAN India operations, Samrick represents Bobrick Washroom Equipment Inc., Koala Kare Products, and GAMCO from USA, Vama from Italy and ffuuss from Spain. Established in 1989 as erstwhile Sampurna Marketing Pvt. Ltd., company sought to be a leading supplier of the best washroom products in India. It always focussed on supplying the World's best available products. To this end, it tied up with Bobrick Washroom Equipment Inc., USA – the World leader stainless steel washroom accessories in commercial real estate in 2008. It opened its headquarters at Bangalore and branches in Mumbai and Gurgaon in the same year.
Through Bobrick, it also got to promote the products of Koala Kare and Gamco. Product offering by Samrick increased manifold when it tied up with Hand Dryer major Vama from Italy. Vama has over 50 years of exclusive experience in manufacturing high quality hand dryers and hair dryers. With these World's leading brands, the product range at Samrick has given decision makers myriad options with design and budget flexibilities.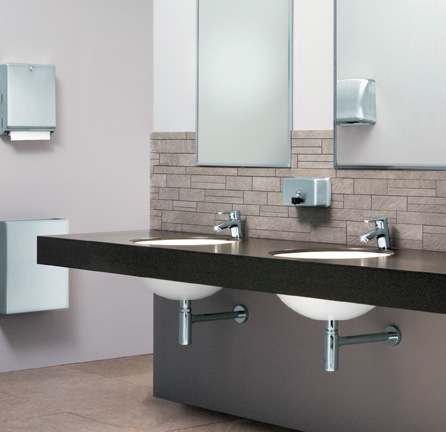 With over 10 years of successful operations and with its vast range, Samrick has become the most preferred choice when customers look for high quality washroom accessories. The range encompasses a wide selection of Soap Dispensers, Paper Towel Dispensers, Warm Air Hand Dryers, Grab Bars, Combination Paper Towel & Waste Receptacle units, Toilet Tissue Dispensers, Mirrors, Bathroom Accessories, Healthcare Accessories, Baby Diaper Changing Stations, High Chairs, Jet Dryers, Hair Dryers etc.
Year 2018 has been remarkable for Samrick. It established its footprint in Hyderabad for catering to the rapidly growing regions of Telangana and Andhra Pradesh. In order to cater to rapidly growing demand of high quality hands-in jet dryers, Samrick recently tied up with ffuuss, Spain.
Public washrooms in India had been an ignored aspect. Thankfully, the design fraternity began thinking of public washrooms – be it an office, airport, shopping mall, hospital, multiplex, hotel, restaurant, school, stadium etc. – in a private way. Facility owners fretted to have better washrooms in their facilities. This heralded a welcome change in the designing of washrooms and soon, people looked out for suitable solutions for making their washrooms perfect.  This was the ideal launch pad for Samrick (erstwhile Sampurna Marketing Pvt. Ltd.) as it joined hands with the world's leading washroom accessory brand "Bobrick Washroom Equipment Inc. USA" in 2008. Thereafter the growth trajectory has been steep. Today, it is a widely renowned name in all of India. When people look for Bobrick, Koala Kare, Gamco and Vama products for their facilities – Samrick is who they go to!
1989: Established as Sampurna Marketing Pvt. Ltd. at Bangalore1989 – 2005: Largely a dormant company with miscellaneous trading activities.
2005 -2007: Starts actively scouting for leading international brands of washroom accessories for representation in India.
2008: Ties up with Bobrick Washroom Equipment Inc. USA, built up its first sales team, opened branches in Mumbai and Gurgaon
2009: Major breakthrough as company bagged many prestigious projects like T3 – Delhi International Airport, T2-Mumbai International Airport and many other large commercial office projects
2014: Tied up with Vama Elettrotermo Meccanica Srl, Italy to expand its Hand Dryer offerings
2018: Began operations in Hyderabad & tied up with ffuuss, Spain to cater the needs of high quality hands-in jet dryers.
We have grown from a small operation with only a few employees in 2008 to an organization of over 50+ years of cumulative experience with industry-leading product experts in restrooms, interior designing, logistics, and more. Samrick, today, is a young and dynamic organization with a youthful and enthusiastic team determined to accomplish the vision of becoming the Best Value Provider in the washroom accessories segment.
One of our most valuable aspects of being an organization of repute in India, is our ability to represent the World's top brands and nurture the organizational talents to promote these brands & bring a paradigm shift in the utilities of public washrooms.
We focus on non-residential washrooms. We continue to remain committed towards providing the best value proposition through the World's top brands at very competitive prices. For the washrooms at airports, commercial offices, shopping malls, hotels, restaurants, schools, multiplexes, public avenues like exhibition halls, stadiums etc., we have various solutions with over 500 products just in the washroom accessories segment.
Our expert sales teams believe in consultative selling rather than selling the products on price. They tend to immerse themselves in each assignment and become an independent consultative guide for selecting the best suited washroom products.
Backed by a robust warranty program and after sales support, our customers are a happy lot. "One doesn't need a large service team if your products are good and fail infrequently" – our products frequently last till the lifecycle of the building. Products with electronic parts are warranted from 1 to 10 years, thereby, giving customers full peace of mind. When they purchase products from Samrick, they know that they are buying the best and lasting value.

Bobrick is a 100+ year-old global washroom accessory and partition company headquartered in North Hollywood, California, USA, with six manufacturing divisions across the United States and Canada and business operations that extend into 85 markets worldwide. With Bobrick, we offer stainless steel washroom accessories viz. Soap Dispensers, Paper Towel Dispensers, Waste Receptacles, Toilet Tissue Dispensers, Hand Dryers etc., mainly to commercial establishments. For more details, browse our website or log on to www.bobrick.com

Koala Kare Products is the world's most recognized brand of Baby Changing Stations and commercial childcare products. They are a privately held company headquartered in Centennial, Colorado, USA, and a Division of Bobrick Washroom Equipment, Inc. They are the world's leading provider of safe and innovative commercial childcare products for over 25 years.With Koala Kare, we offer Baby Care products viz. Nappy/Diaper Changing Stations, High Chairs, Cradles, Cinema Seat Boosters etc.For more details, browse our website or log on to www.koalabear.com

Gamco Commercial Restroom Accessories – a division of Bobrick Washroom Equipment, Inc. operates from Durant, Oklahoma, USA. They specialize in customized fabrication of commercial stainless steel restroom accessories. With Gamco, we offer custom restroom products made from specialty materials such as solid brass and solid bronze, or with powder coated finishes in a variety of colours.For more details, browse our website or log on to www.gamcousa.com

Founded in 1950, Vama, headquartered in Milan, Italy has specialized in design and manufacture of electric warm air hand and hair dryers and in other products related to hygiene. Rigorous controls are carried out by their technicians during all phases of production, from single components to final tests. With Vama, we offer a range of various high quality Jet Dryers, Warm Air Hand & Hair Dryers at competitive prices. For more details, browse our website or log on to www.vama.it

Headquartered in Barcelona, Spain, ffuuss is a part of OTS group. It focuses on the marketing of extremely high quality Jet Hand dryers with its wide reach in International market. The combination of invention, design, technology and manufacturing in a seamlessly integrated team produces greater flexibility, faster response, better prices and, above all, the highest level of commitment to its customers. Complete autonomy for the generation of ideas and their production is the driving force behind ffuuss and the guarantee that the hand dryer is the first of many projects still to come. For more details, browse our website or log on to www.ffuuss.com